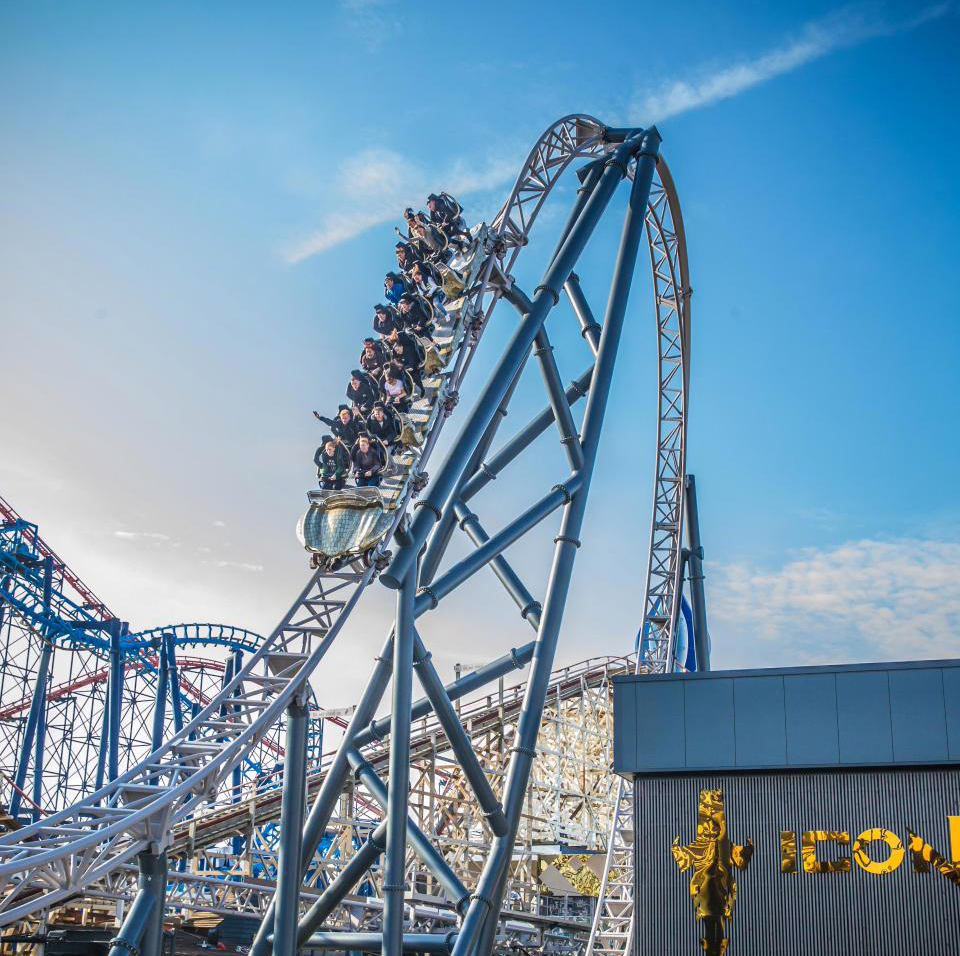 ICON
The new adrenaline addition to the Lancashire resort's attractions is Icon, the UK's first "double launch rollercoaster". The 80-second ride begins on the level, with acceleration equivalent to a Formula 1 racing car – reaching over 50mph in 2.25 seconds. Passengers race through a cloud of artificial fog and then start a steep climb followed by a precipitous descent. Anyone able to keep their eyes open will see that the track threads through some existing Pleasure Beach rides, creating an extra dimension of confusion for the mind to process while the body is coping with forces of up to 4g.
The £16m ride was built by Mack Rides of Waldkirch, of "world-class steel transported from Germany", and assembled in Lancashire.
A sharp roll to the left presses riders into their seats, which are at least as comfortable as those on a budget airline. Some extreme turbulence takes rides corkscrewing in the direction of the Big One, which was the world's highest, fastest rollercoaster when it opened in 1994.
The Thompson family, which owns Blackpool Pleasure beach, hope that Icon will re-energise the resort. The managing director, Amanda Thompson, calls it "a game changer", adding: "We wanted to bring thrill-seekers back to the resort."
A second surge of acceleration is one of the lures. The car appears to be heading back to base, descending and slowing into a cloud-filled chamber. But then 1.7 megawatts of power kicks in, using electromagnets similar to those on the world's fastest train, the Shanghai mag-lev railway. As with Concorde powering through the sound barrier, passengers are impelled forward with a robust nudge in the back. Unlike the supersonic jet, Icon takes off almost vertically before a second helping of rocking and rolling. During the final half-minute of the 90-second ride, passengers can appreciate the skill of the engineers who have embroidered Icon into an already complex tapestry of rides at the Pleasure Beach.
Ms Thompson, who confesses "I'm not the biggest fan of rollercoasters", was a passenger on the first departure following the official opening. "Absolutely, terrifyingly amazing," she told The Independent after the ride. "I was going, 'Please end, please end, oh my God, no'. "It was fabulous – so thrilling."